The effect of corona decreased! 1.73 lakh cases reported in last 24 hours, lowest in 46 days
The effect of corona decreased! 1.73 lakh cases reported in last 24 hours, lowest in 46 days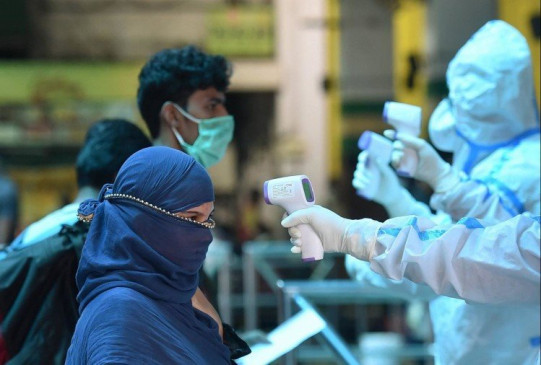 Digital Desk, New Delhi. Outbreaks of the second wave of coronavirus continue in India, although statistics show that the outbreak has already decreased. But the nakedness of death does not stop. In recent days, the number of people infected with the epidemic has reached more than 4 lakh per day. It is a matter of relief that the number of infected people per day has now reached 1.73 lakh. This is the lowest number in the last 46 days.
At the same time, considering the daily deaths, the figure is still over 3,000. In the last 24 hours, 3,617 people have been infected. So far, however, 2,84,601 people have been cured of the virus.
Black fungus medicine will not be taxed
According to the latest figures released by the Ministry of Health, 1 lakh 73 thousand 790 new corona cases have come to light in the last 24 hours. At the same time, the virus killed 3,617 people. However, it is a matter of relief that two lakh 84 thousand 601 persons have also been recovered from Corona. A day earlier, 1.86 lakh cases were registered on Thursday.
On the other hand, the number of patients recovering from corona has now reached 90.80 per cent across the country. However, the weekly infection rate is 9.84 percent. Earlier on Friday, the daily infection rate was 8.36 percent. This is the fifth consecutive day that the daily infection rate has been below 10 percent.
Mamata asked the Prime Minister to submit a joint report on the damage
Talking about the vaccination being done to defeat this virus, according to statistics, a total of 20.89 crore doses have been given in the country. In the last 24 hours, 30,62,747 vaccines against the last corona virus have been administered in the country. A total of 341 million samples have been tested in the Corona so far.
| | |
| --- | --- |
| अब तक कुल मरीजों की संख्या | 2 करोड़ 77 लाख 29 हजार 247 |
| ठीक हुए मरीजों की संख्या | 2 करोड़ 51 लाख 78 हजार 011 |
| कोरोना से मरने वालों की संख्या | 3 लाख 22 हजार 512 |
| कुल एक्टिव मामलों की संख्या | 22 लाख 28 हजार 724 |
| देश में कुल वैक्सीनेशन | 20 करोड़ 89 लाख 02 हजार 445 |
India reports 1,73,790 new #COVID19 cases, 2,84,601 discharges & 3,617 deaths in last 24 hrs, as per Health Ministry

Total cases: 2,77,29,247
Total discharges: 2,51,78,011
Death toll: 3,22,512
Active cases: 22,28,724

Total vaccination: 20,89,02,445 pic.twitter.com/NgfUAOgz08

— ANI (@ANI) May 29, 2021