Sonu Sood's milkman raises his hands and says, "I can't bear the pressure like you."
Sonu Sood's milkman raises his hands and says, "I can't bear the pressure like you."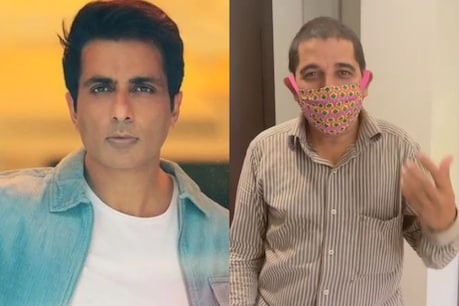 Sonu Sood is active on social media. Photo Courtesy-@sonu_sood/Instagram
Sonu Sood shared the video and wrote, 'My milkman Guddu has also raised his hands. He can't bear the pressure anymore. Everyone who wants to know how I do it should come and stay with me one day.'
Mumbai. Bollywood (Bollywood) actor Sonu Sood (Sonu Sood) is constantly helping people during the Corona period. While people have been asking him for help on social media (Social Media), Sonu has often pointed out that his family and friends are also involved in the case. But now Sonu Sood's milkman has lost, he has raised his hands. A video of Guddu Bhaiya was shared by actor Sonu Sood himself in which he can be heard saying that I can't bear as much pressure as you can.
Sonu Sood (Sonu Sood) is active on social media, recently shared a video on his Instagram account where he is seen talking to his milkman Guddu Bhaiya. Sonu asks them if you all listen to the calls that come to the number you gave. On Sonu's question, Guddu said that he gets calls at night. Sometimes 6 calls come in the morning. Never call at 4 a.m. Never call at 1 o'clock. I can't tell how upset I am. Sonu says, "I also get calls from people, I also listen to you, what is your problem." Then Guddu replied that we don't have that much capacity, we can't bear that much.
Sonu Sood shared the video and wrote in the caption, 'My milked guddu has also raised her hands. He can't bear the pressure anymore. Everyone who wants to know how I do it should come and stay with me one day.'
There are a lot of reactions from people on this video. People are offering them a lot of prayers after watching the video.

Tell you that since last year Sonu has been continuously helping people affected by the Covid-19 epidemic across the country. The actor had recently ordered an oxygen plant which will be set up in state hospitals.