Over 16.85 crore people infected in the world, over 3.5 million succumb
Over 16.85 crore people infected in the world, over 3.5 million succumb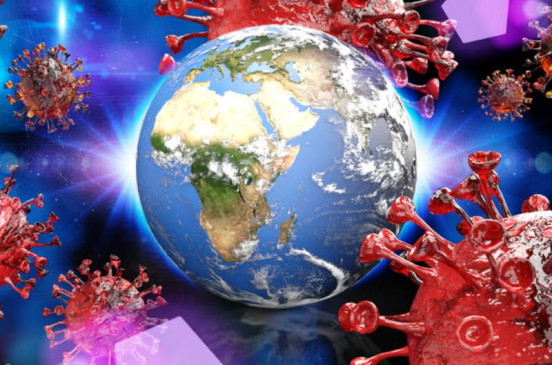 Digital Desk, New Delhi. The second wave of coronavirus has wreaked havoc in many countries these days. Despite the availability of vaccines in many countries to fight the virus, new forms are emerging. In this case, the number of patients is constantly increasing. The situation is that so far the number of people fighting this epidemic all over the world has crossed 1685 crores. Although the death toll is not small, the virus has claimed millions of lives.
According to the report, a total of 35.0 lakh people have died since being infected with Kovid-19. The figures were released by the World Health Organization (WHO) on Saturday morning.
Covid-19 India: Corona's influence diminishes! 1.73 lakh cases have come to light in the last 24 hours
If we look at the statistics, according to the WHO, the total number of patients infected with this epidemic in the world has so far exceeded 16 lakh 85 lakh 99 thousand 045. While the number of deaths has increased to 35 lakh 07 thousand 477.
According to the report, the United States is still at the top of the list of most affected countries in the world. The virus has so far infected 3 crore 28 lakh 69 thousand 009 people. At the same time 5 lakh 86 thousand 890 people have died in the course of time.
While India has the second highest incidence of coronavirus in the world. So far 3 lakh 22 thousand 512 people have died here. At the same time 2 crore 77 lakh 29 thousand 247 people are affected by it. Brazil, on the other hand, has the second highest death toll at 4,54,429.
Other countries with more than 3 million cases, according to WHO figures:
| | |
| --- | --- |
| देश का नाम | कुल संक्रमितों का आंकड़ा |
| ब्राजील | 16,274,695 |
| फ्रांस | 5,535,701 |
| तुर्की | 5,220,549 |
| रूस | 5,044,459 |
| यूके | 4,473,681 |
| इटली | 4,205,970 |
| जर्मनी | 3,669,870 |
| स्पेन | 3,663,176 |
| अर्जेंटीना | 3,622,135 |
| कोलंबिया | 3,294,101 |
कोविड मौतों के मामले में वर्तमान में 100,000 से अधिक मृत्यु वाले देश:
| | |
| --- | --- |
| देश का नाम | कुल मौतों का आंकड़ा |
| भारत | 318,895 |
| मैक्सिको | 222,232 |
| यूके | 127,758 |
| इटली | 125,793 |
| रूस | 120,406 |
| फ्रांस | 108,354 |