Golden Shoe 2020-21: Lewandowski, Messi, Ronaldo and Europe's top scorers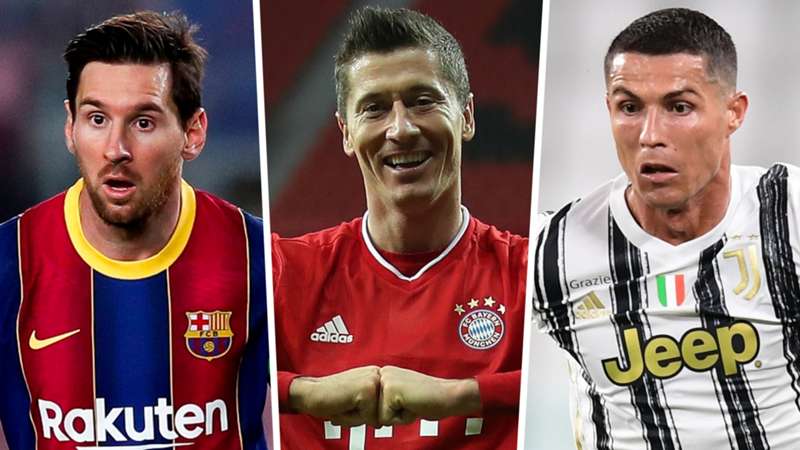 Getty/Goal composite
The race for the 2020-21 Golden Shoe is over after the best strikers from across Europe bolstered their goal tallies in the bid to be crowned the contintent's No 1 sharp-shooter.
Bayern Munich star Robert Lewandowski came out on top with a record 41 Bundesliga goals, seeing off perennial challengers Cristiano Ronaldo and Lionel Messi.
Young upstarts like Kylian Mbappe and Erling Haaland scored in the high twenties, but they couldn't keep up with the Polish phenomenon.
With the race now complete,  Goal  tallies up all the top goalscorers from across Europe's top leagues in 2020-21…
*Note: list includes only top scorers from Premier League, La Liga, Bundesliga, Serie A and Ligue 1.
Getty

Robert Lewandowski | Bayern Munich | 41 goals (82)

Bayern Munich talisman Robert Lewandowski has been one of the best strikers in the world for a number of years now and he defied his advancing years by breaking the Bundesliga goal record. It is Lewandowski's first ever Golden Shoe award and he becomes the first Polish player to win it.

Getty Images

Lionel Messi | Barcelona | 30 goals (60)

One of the greatest goalscorers of all time, Lionel Messi got off to a slow start in 2020-21, but he improved in the second half of the season. Unfortunately for him, however, he had to settle for second best again.

Getty

Cristiano Ronaldo | Juventus | 29 goals (58)

Cristiano Ronaldo recovered from a slow start last season to mount a serious challenge for the Golden Boot, but was prolific from the beginning of the 2020-21 campaign, despite a brief Covid-19-enforced period of isolation.

Getty Images

Andre Silva | Eintracht Frankfurt | 28 goals (56)

Andre Silva struggled to live up to expectations at AC Milan and Sevilla, but he appears to have found his groove in the Bundesliga, where he is one of the main goal threats for Eintracht Frankfurt.

Getty Images

Erling Haaland | Borussia Dortmund | 27 goals (34)

Having joined Borussia Dortmund mid-way through last season, there were some doubts about Erling Haaland's capacity to make the step up in the Bundesliga, but his transition has been seamless. Indeed, his goal return so far suggests that he has even taken it up a notch.

Getty

Kylian Mbappe | PSG | 26 goals (52)

Injuries and the Covid-19 pandemic severely impacted Kylian Mbappe's goal return last season, but he has made up for his absences for Paris Saint-Germain in 2020-21, though it wasn't enough to deliver the Ligue 1 title.

Getty

Romelu Lukaku | Inter | 24 goals (48)

Romelu Lukaku continues to shine at Inter and his worth to the club is reflected in the fact that he reached the 50-goal milestone for the club, doing so in fewer games than the legendary Ronaldo Nazario. The Belgium international

Getty Images

Gerard Moreno | Villarreal | 23 goals (46)

Villarreal's Gerard Moreno hit the ground running in 2020-21, brimming full of confidence after scoring 18 goals in La Liga the previous season. The Spain international is the focal point for The Yellow Submarine and scored an important goal against Real Madrid as they secured a point in November.

Getty

Karim Benzema | Real Madrid | 23 goals (46)

Karim Benzema was the undisputed star forward for Zinedine Zidane's side in 2020-21, but his goals were not enough to secure the Liga title for Real Madrid.

Getty

Harry Kane | Tottenham | 23 goals (46)

Having seemingly scored at will between 2014 and 2018, Tottenham's Harry Kane failed to crack the 20-goal mark in the Premier League in the previous two seasons. However, the England star remains a potent threat in front of goal and won the Premier League Golden Boot.

Getty Images

Luis Muriel | Atalanta | 22 goals (44)

In 2020-21, Colombia international Luis Muriel bettered his tally from the previous year when he hit 18 goals in Serie A and he remains a key figure for Atalanta, thriving in Gian Piero Gasperini's high-octane system.

Getty

Mohamed Salah | Liverpool | 22 goals (44)

Liverpool ace Mohamed Salah has been forced to share the goals with Sadio Mane in recent seasons, but the Egyptian remains a terrific threat and is now closing in on a century of league goals for the Reds after his 22 strikes this season.

Getty

Luis Suarez | Atletico Madrid | 21 goals (42)

He may be into his thirties and deemed surplus to requirements at Barcelona, but Luis Suarez remains one of the best strikers in La Liga and his goals helped deliver the Liga title for Atletico Madrid.

Getty Images

 Dusan Vlahovic | Fiorentina | 21 goals (42)

Serbia international Dusan Vlahovic is a rising star at Fiorentina and has been remarkably consistent in front of goal for La Viola, hitting over 20 goals in 2020-21.

Getty Images

Wout Weghorst | Wolfsburg | 20 goals (40)

Towering forward Wout Weghorst has been one of the most consistent scorers in the Bundesliga since his arrival in 2018 and in 2020-21 he enjoyed his best season yet.

Getty

Andrej Kramaric | Hoffenheim | 20 goals (40)

Croatia international Andrej Kramaric was prolific for Hoffenheim in the Bundesliga side in 2020-21, netting goals against Bayern Munich home and away.

Getty

Ciro Immobile | Lazio | 20 goals (40)

The 2019-20 Golden Shoe winner remains Lazio's chief goal threat and broke into double figures early enough in the season. However, he was well behind in the race for the 2020-21 prize.

Getty Images

Simy | Crotone | 20 goals (40)

Having hit 20 goals in Serie B in 2019-20, Simy hit the ground running in Serie A with Crotone and matched his exploits with another score.

Getty

Memphis Depay | Lyon | 20 goals (40)

Netherlands international is entering into his prime and surpassed his previous high of 19 Ligue 1 goals. His prowess in front of goal has alerted the attention of Barcelona, who are keen to bring the Dutchman to Catalunya.

Getty

Wissam Ben Yedder | Monaco | 20 goals (40)

Goalscoring exploits with Sevilla have been replicated at Monaco and Wissam Ben Yedder is now club captain with the principality team. He was marginally off 20 goals in 2019-20, but cracked the second decade in 2020-21.

Getty Images

Lorenzo Insigne | Napoli | 19 goals (38)

Now an elder statesman of the Napoli team, Lorenzo Insigne has been expected to assume more responsibility and he has certainly added goals to his game again. The diminutive Italy international chips in with plenty of assists too and he surpassed his form from 2016-17, when he bagged 18 goals.

Getty

Bruno Fernandes | Man Utd | 18 goals (36)

Bruno Fernandes has been a breath of fresh air for Manchester United and the attacking midfielder is central to much of the Red Devils' good play. As well as setting up his team-mates, the Portugal international gets on the scoresheet himself and is the main penalty taker, meaning he got his share of goals over the season.

Getty

Youssef En-Nesyri | Sevilla | 18 goals (36)

A key player for Sevilla, Youssef En-Nesyri wasted little time in breaking into double figures in 2020-21, scoring just shy of 20 goals.

Getty

Heung-min Son | Tottenham | 17 goals (34)

Tottenham star Heung-min Son was the key man for the north London side in 2020-21, picking up some of the slack in the goal department. The forward's connection with Harry Kane continues to yield plenty of goals for both parties.

Getty Images

Alexander Isak | Real Sociedad | 17 goals (34)

Former Borussia Dortmund forward Alexander Isak has thrived in La Liga and managed to improve his scoring record in 2020-21.

Getty

Lautaro Martinez | Inter | 17 goals (34)

A reported target for Barcelona, Lautaro Martinez has formed a frightening partnership with Romelu Lukaku at Inter and though he didn't quite match his team-mate, his numbers in 2020-21 were impressive.

Getty

Patrick Bamford | Leeds United | 17 goals (34)

Though never previously prolific, Patrick Bamford is quickly maturing into one of the best strikers in the Premier League, thanks in no small part to Marcelo Bielsa.

Getty Images

Domenico Berardi | Sassuolo | 17 goals (34)

One of Sassuolo's stalwarts, Domenico Berardi was a key player in 2020-21 and continued his uptick in form in front of goal.

Getty Images

Dominic Calvert-Lewin | Everton | 16 goals (32)

Everton striker Dominic Calvert-Lewin has enjoyed a transformation under the tutelage of Carlo Ancelotti and is becoming a highly prolific goalscorer. Though he might be considered something of a late bloomer, Calvert-Lewin is still relatively young and his form for the Toffees sees him challenging Harry Kane for the England No. 9 shirt.

Getty

Sasa Kalajdzic | Stuttgart | 16 goals (32)

Sasa Kalajdzic was in fine form for Stuttgart in the Bundesliga in 2020-21. The Austrian continued his successful efforts on the pitch in this second season for the club.

Getty

Kevin Volland | Monaco | 16 goals (32)

Former Bayer Leverkusen striker Kevin Volland has been enjoying his time in Ligue 1 since signing for Monaco ahead of the 2020-21 campaign. The Germany international regularly reaches double figures and scored at a rate that saw him complete his best season ever.

Getty

Ludovic Ajorque | Strasbourg | 16 goals (32)

Strasbourg forward Ludovic Ajorque enjoyed his best ever season in Ligue 1, cracking double figures in the goal charts and he will be eager to continue that form into 2021-22.

Getty

Joao Pedro | Cagliari | 16 goals (32)

Brazil-born playmaker Joao Pedro scored 18 goals in Serie A last season and went close to matching that tally by maintaining his early-season form all year.

Getty Images

Burak Yilmaz | Lille | 16 goals (32)

Lille's Ligue 1 title challenge was fuelled in part by the goals of veteran striker Burak Yilmaz, with the Turkey international defying the march of time.

Getty

Gaetan Laborde | Montpellier | 16 goals (32)

A key player for Montpellier over the course of the past three seasons, Gaetan Laborde continued to find the back of the net in Ligue 1.