BMW X7 M50d 'Dark Shadow Edition' launched in India, priced at Rs 2.02 crore
BMW X7 M50d Dark Shadow Edition launch in India, price 2.02 crore | BMW X7 M50d 'Dark Shadow Edition' launched in India, priced at Rs 2.02 crore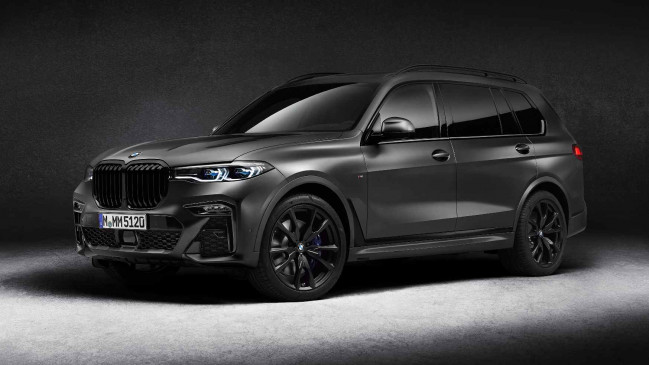 Digital Desk, New Delhi. German luxury car maker BMW has launched the Dark Shadow Edition (X7 M50D Dark Shadow Edition) of the X7 M50d in India. This SUV is very aggressive and attractive to look at. It has a very sporty look and a powerful engine. Significantly, only 500 units of this SUV will be available for sale worldwide, including in India.
In terms of price, the X7 M50D Dark Shadow Edition has been launched at a price of Rs 2.02 crore. Bookings for BMW's limited edition SUV begin today. Let's know about its features …
External
The Dark Shadow Edition of the X7 M50D is based on the range-topping M50i variant. In it, the company uses a frozen Arctic gray metallic paint finish for the first time. In addition, the Dark Shadow Edition includes a Kidney Grill, Roof Rails and Telepipes. The V-Speak design features 22-inch M-light-alloy wheels. Overall, the SUV is sporty, very attractive and stylish.
Internal
The interior of the SUV gets a contrasting seam in the full leather sky blue 'Night Blue / Black' two-tone. The second-row captain's seat is included in the three-day SUV with a six-seater configuration. At the same time, the front seats are provided with comfortable seats with electric adjustment along with memory function.
It is electronically controlled by 'Automatic Differential Brakes / Locks' (ADB-X), 'Dynamic Traction Control' (DTC), Hill Start Assist and Hill Descent Control. The BMW X7 M50d model is the first to come with Park Distance Control (PDC). It has sensors on both the front and back. It also has a BMW head-up display on the windscreen for driving information.
A 12.3-inch digital instrument display is provided behind the steering wheel and inside the SUV's cabin is a 12.3-inch infotainment system. The display includes 3D navigation, BMW signal control, BMW display key, wireless charging and wireless Apple CarPlay, as well as Android auto connectivity. It has a 16-speaker Herman Kardon surround system for better sound.
Engine and power
The BMW X7 M50d 'Dark Shadow Edition' SUV is powered by a 3.0 six cylinder diesel engine. The engine is capable of producing 400 hp of power and a maximum torque of 760 Nm at 2,000 to 3,000 rpm. The engine comes with an 8-speed steptronic support automatic transmission. In terms of speed, this SUV can accelerate from zero to 100 kmph in just 5.4 seconds.